Presenting Hype DC x adidas Originals 'Home of Classics', exploring the iconic, powerful and timeless culture behind the adidas Gazelle and Handball Spezial.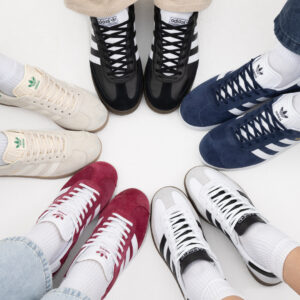 First rising to fame from 70s 'hooligan' subculture in the United Kingdom, adidas Originals' Gazelle and Handball Spezial silhouettes return once more to the forefront of the sneaker world. Alongside the resurgence of the Gazelle and Handball comes the return of "Terrace" casual attire, said to have been originally started by the same football fans in the 70s stampeding their way across Europe filled with glory and the desire for high end casual clothing to show off at every football match. Energized by this style movement, the adidas Trefoil made its way into the hearts and onto the feet of hooligans. Eventually evolving to a badge of honour, all eyes were focused on who was wearing the latest Three-Stripe classic, and, of course, on the match playing out in-front of them.
Fashion became engrained in football culture, creating a new desire to look your best at every match.
Fast forward 4 decades and now the Gazelle and Spezial sneakers are buzzing with the same energy. Synonymous with heritage style, sleek design and a certain retro flavour, and worn by the game changers and influencers alike, adidas Originals is rapidly carving out a new niche in the modern sneaker world.
Shop the adidas Originals Gazelle and Spezial with Hype DC, The Sneaker Authenticator, since '98.